Crypto
XRP Price Leaps 16% On Fake BlackRock ETF Filing: Details
In late November 13, the price of
The incident began when users of X (formerly Twitter) shared a document in Delaware suggesting that BlackRock, the global asset management giant, had registered the "iShares XRP Trust." This action is usually a precursor to the launch of an ETF. Consequently, the price of XRP soared to $0.75, an increase of 16%, just 25 minutes after the news was announced.
But the enthusiasm was short-lived. Eric Balchunas, analyst at Bloomberg ETF confirmed the filing as false after direct communication with BlackRock representatives. Balchunas said the XRP trust was falsely listed on the Delaware website using the name of Daniel Schwieger, chief executive of BlackRock.
In an X post, Balchunas said: "This is false! Confirmed by BlackRock by me. Some weirdo had to be added using the name of the BlackRock executive, etc. Come on man. […] Some people wonder if BlackRock actually confirmed to me that this was false. They did it. A spokesperson confirmed. If that doesn't help and you're still angry, see a doctor.
Adding to this, Bloomberg's James Seyffart REMARK on the rapid fluctuation of prices: "Back and forth down to where it was before the fake pump. […] It was quick […] Whoever did this best covered their tracks because the feds are going to investigate them, I guess. Seyffart also clarified that even if the XRP trust filing was fake, the Ethereum ETF deposit is legitimate and confirmed.
Why the chances of an XRP ETF from BlackRock were slim
Scott Johnson, financial attorney at Davis Polk elucidated why BlackRock's XRP ETF was unlikely to be true: "This would represent an aggressive posture by Blackrock given that there is currently no clear path for XRP to obtain 19b-4 approval here without a CME/SSA futures market. This is not to say that it is impossible, but it would require charting a new path.
Jeremy Hogan, a renowned community attorney, explain the simplicity of spoofing the constitution of an ETF, highlighting its fraudulent nature and ease of execution. Hogan explained that "it's actually very simple and only costs $500. You just need to file two documents (attached), pay the money and you get a "placeholder" on the state website. »
He also speculated that the author might have profited from the price spike. "Criminal saw what happened with ETH trust file, files XRP trust file, buys $100,000 worth of XRP with leverage, sells it at 74 cents and pockets $2-3 million" , Hogan speculated.
At press time, XRP was trading at $0.6636 after briefly touching the 0.618 Fibonacci retracement level.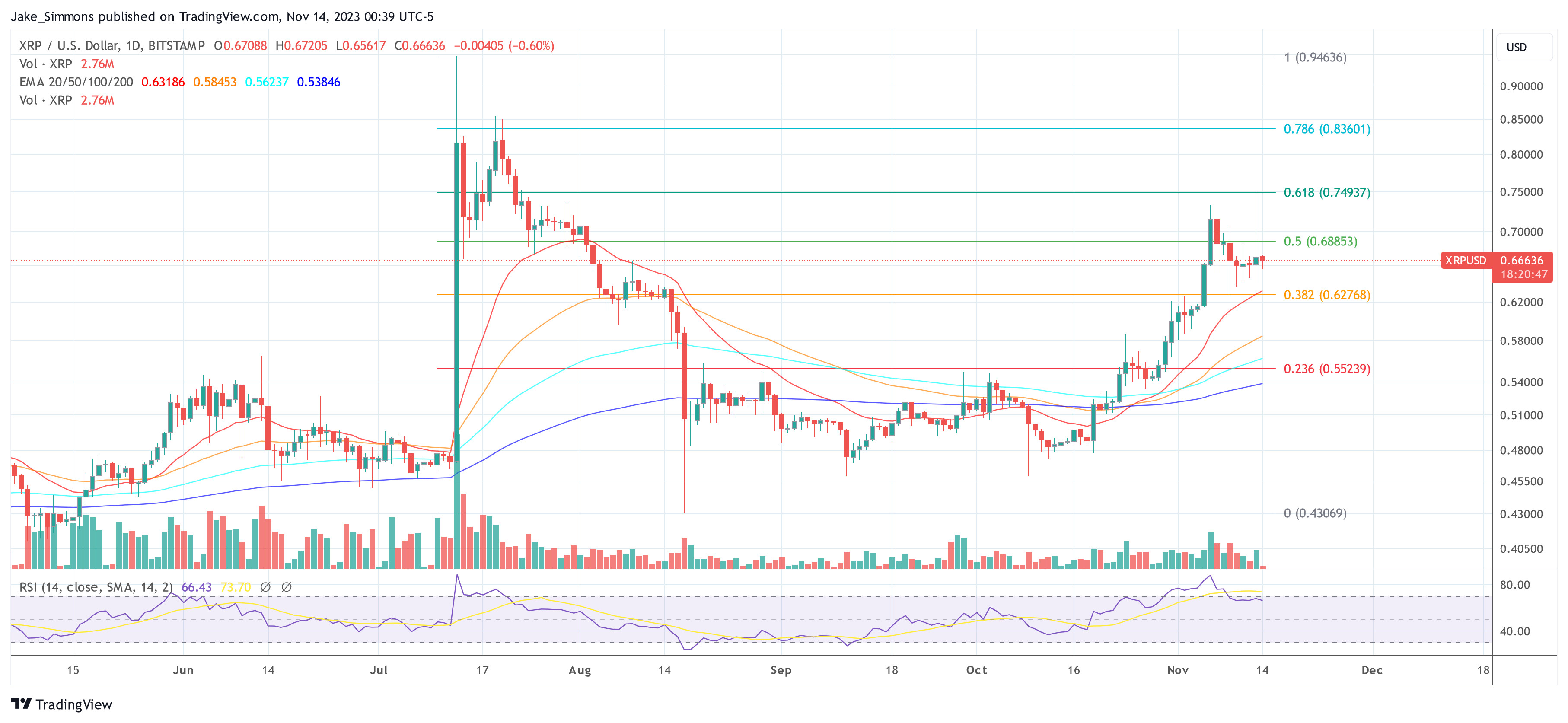 Featured image by Markus Winkler / Unsplash, chart from TradingView.com