Crypto
Why Bitcoin Overhead Resistance Is Weak
The price of Bitcoin is just $37,500 – a far cry from the former all-time highs of around $68,000.
However, a visual technical analysis tool could show that overhead resistance is weak and the leading cryptocurrency could tear apart what's left. Could BTCUSD be back to historic highs faster than most are willing to do?
Bitcoin Price Surpasses Monthly Ichimoku Cloud
Technical analysts rely on a variety of tools to provide signals to visually inspect and manually or automatically take positions based on the results.
One such tool, created by Japanese journalist Goichu Hosoda, is called the Ichimoku. Hosoda was nicknamed "Ichimoku Sanjin", which loosely means "what the man sees in the mountain". The idea behind Ichimoku is that it provides an "at a glance" view of all market conditions.
For example, the cloud shows where future support and resistance might lie. Meanwhile, the Tenkan-sen and Kijun-sen act as trend-following tools that cross-reference bearish and bullish trends based on price action. These spans can also act as support and resistance.
With all of that out of the way, just a "glance" at the chart below and we can see that there is very little 1 million BTCUSD resistance remaining.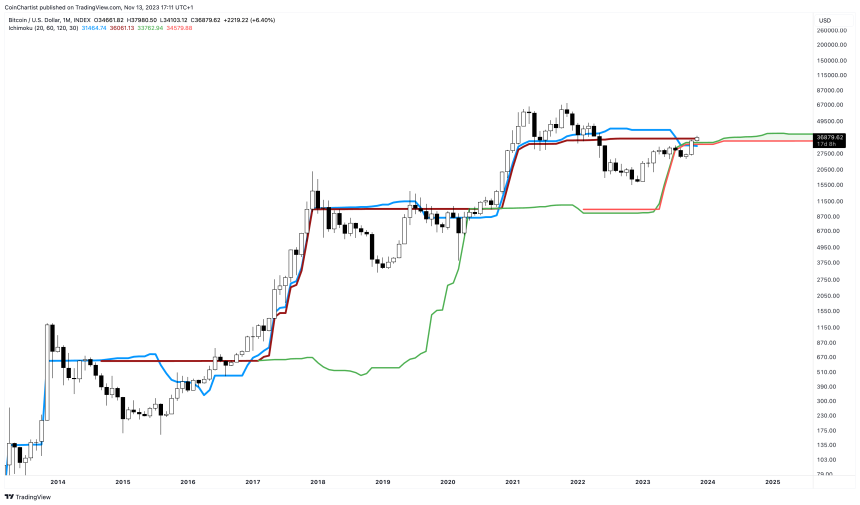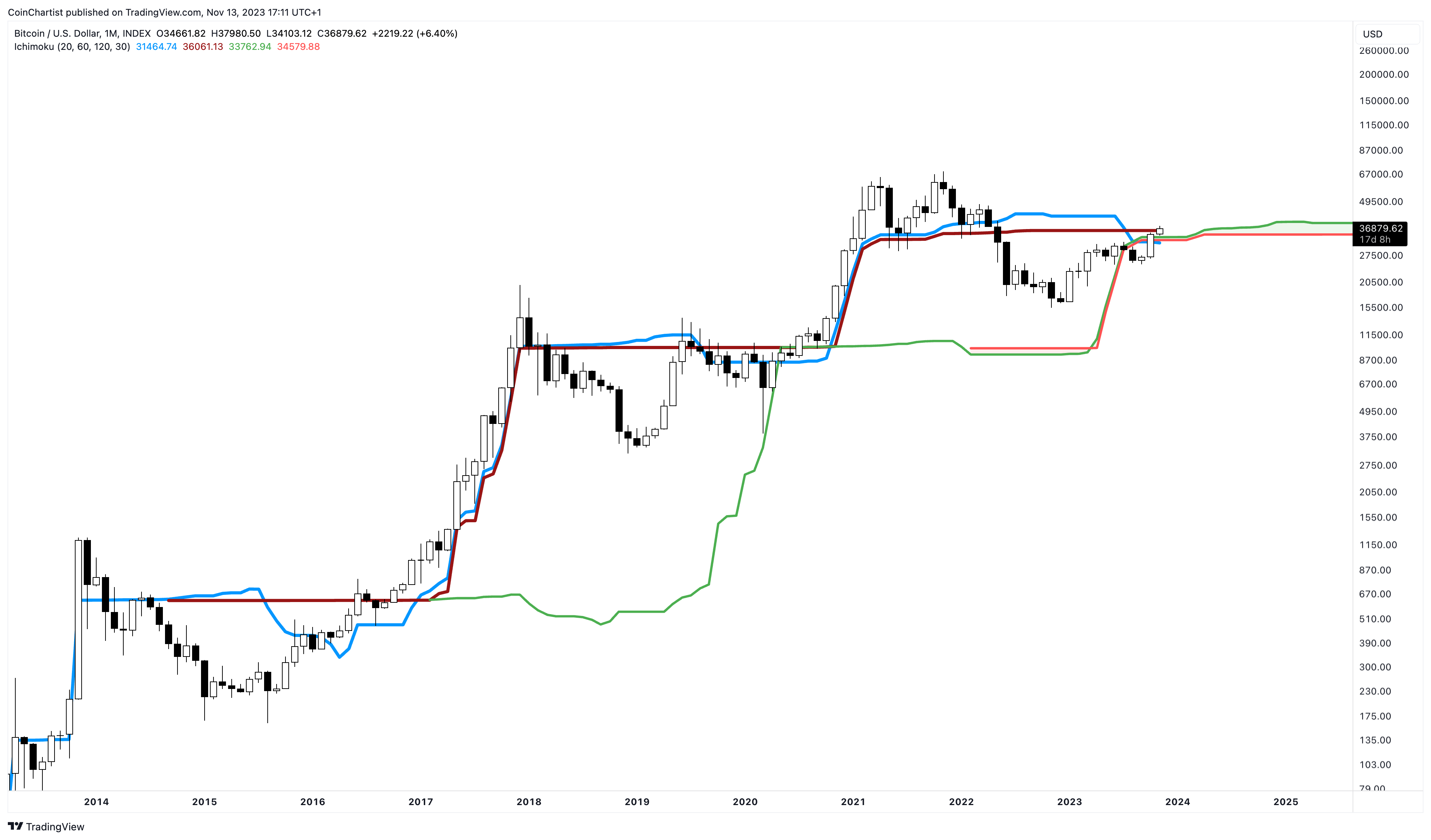 Bitcoin price is pushing above all major resistance | BTCUSD on TradingView.com
Clear skies above major resistance, but many minor pullbacks
With just a glance, it is also possible to see how every time the Bitcoin price crosses these intervals and the Ichimoku cloud, an extended bull market is formed.
It is important to note however that Tenkan-sen (blue) and Kijun-sen (brown) are still bearish crosses. But this also happened before each increase.
Additionally, delay duration has been omitted from this graph. Called Chikou span in Japanese, the delay shows where old supports and resistances were, meaning Bitcoin has less significant resistance levels to face, around $43,000 and again around $60,000.
Beyond $60,000, the Ichimoku shows nothing but air. Could this really mean clear skies for Bitcoin once the Ichimoku Cloud is officially left behind?
This chart originally appeared in CoinChartist VIP issue #27. Click on here to read the rest of the issue.