Crypto
Two Potential Outcomes From $0.66 Level
After an up-and-down weekend, XRP price stumbled across a critical resistance level, forcing the token to revisit its support. The crypto market follows a similar trajectory over short periods of time, but one analyst believes the current price action could pave the way for a bigger rally.
At the time of writing, XRP price is trading at $0.64 with a loss of 3% during today's trading session. Over the previous week, the token recorded a loss of 7%, ranking among the top 10 in terms of market capitalization, followed by Cardano (ADA), which recorded a profit of 4% over the same period.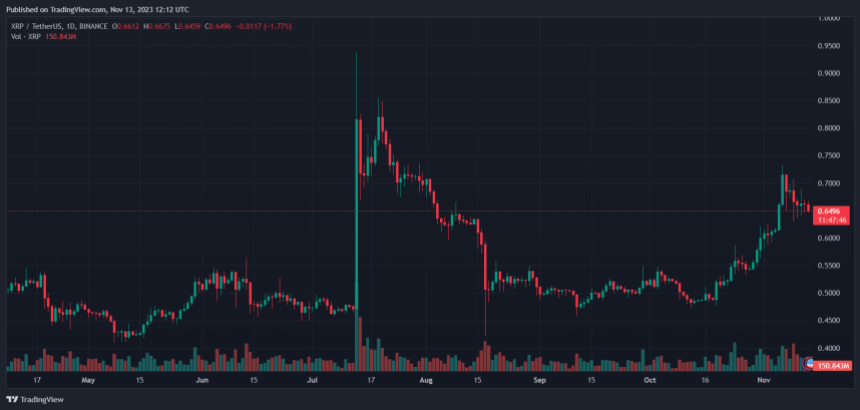 XRP encounters resistance but prepares for a bigger rise?
According to a pseudonymous analyst, XRP price encountered resistance at $0.664, which could trigger potential scenarios. On the positive side, the cryptocurrency is targeting a key level at $1, the analyst believes.
As shown in the chart below, XRP needs to break the top of its current range at $0.73 before launching higher. At around $1, the cryptocurrency would climb above the 0.8 Fibonacci extension, a series of levels used to measure resistance and support.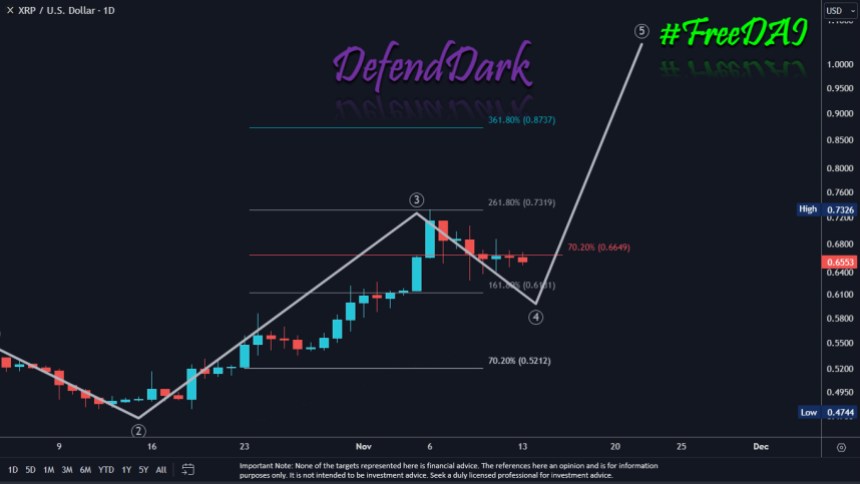 In this sense, $0.9 constitutes the most important resistance for XRP and its upside potential. The trader believes that the bullish momentum dissipated after a close below the 0.66 Fibonacci extension, which could take the token back to $0.61 or $0.58 if the bulls fail. to push back.
On the upcoming XRP price trend, analyst declared the following, favoring a lateral price action scenario:
The sideways movement continues between $0.6649 and $0.6131, and the latter becomes significant. We can hit here because we stayed below the target level. The goal is still to reach $0.87 and $1.05 in the very near term, but the prerequisite is to stay above $0.6649.
When will XRP price reach $1?
Previously, the same analyst claimed that resistance at $0.66 opened the door for an increase to the $0.7 level, as mentioned. The analyst believes that the token could surpass these levels in the coming month.
XRP could reach $0.87 on November 19 if the bulls attempt to breach this resistance. Corresponding to the Elliot wave theory, the analyst concluded:
XRP broke the 4-hour support of $0.6649 but is still bypassing it. Daily life is still not broken. We call this C Wave Expanded C, and it's completely technical. We rose to $0.6287 yesterday and Fibonacci support is at $0.6131. This correction is completely technical and routine. I trust $XRP to consolidate between $0.66 and $0.61 and continue to finalize the 5th wave at $0.8737 very soon.
Cover image from Unsplash, chart from Tradingview