Crypto
This Chainlink Metric Just Hit Meteoric Levels
Chainlink (LINK) appears to be benefiting from current market momentum as the cryptocurrency sector sees a surge. Recent fluctuations have put LINK and other digital currencies in the spotlight, prompting investors to closely monitor its trajectory.
Amid this uptrend, Chainlink has strategically positioned itself as a dominant force in the world of decentralized protocols, sparking optimism for a potentially bullish rally.
The current price of LINK, as reported by CoinGecko, stands at $11.05, with a slight drop of 1.9% over 24 hours but a promising gain of 1.8% over seven days. Despite this slight setback, industry observers remain optimistic about its future prospects, citing several key factors that could steer its upward trajectory.
Chainlink's Booming Exchange Net flow
The data of CryptoQuant paints a promising picture for Chainlink, revealing an impressive 1,012% increase in its net exchange flow, currently valued at just over $11 million.
This data is of significant importance, indicating a substantial influx of funds into the Chainlink ecosystem, potentially signaling growing interest from institutional investors and retail traders.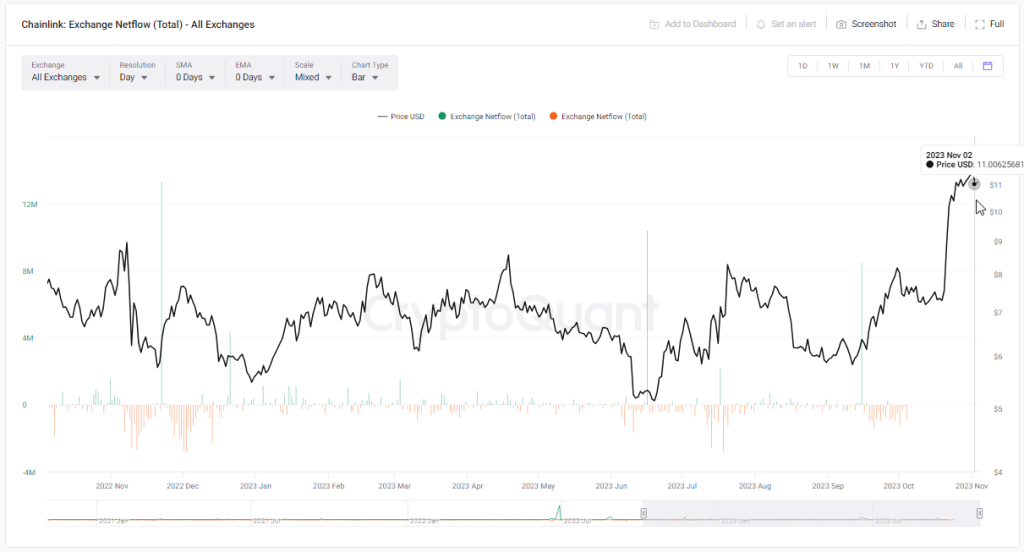 Source: 

CryptoQuant
With an increased influx of capital, Chainlink could experience increased liquidity and greater market stability, paving the way for sustained growth and a potential increase in its valuation.
The Vital Role of Chainlink in Decentralized Protocols
One of the most important factors contributing to Chainlink's upward momentum is its central role within various decentralized protocols. As an integral component of blockchain infrastructure, Chainlink provides critical services that facilitate secure and reliable data transmission between smart contracts and external sources.
This crucial feature has positioned Chainlink as a fundamental part of the broader blockchain ecosystem, attracting significant attention from developers and businesses looking to leverage its robust infrastructure for a myriad of applications.
LINK market cap currently at $6.12 billion. Chart: TradingView.com
With the continued expansion of decentralized finance (DeFi) and non-fungible tokens (NFTs), Chainlink's relevance and utility are expected to grow further, strengthening its position as a cornerstone of the digital economy.
Positive outlook from crypto strategist
Renowned crypto strategist Michaël van de Poppe recently praised Chainlink's performance following a prolonged period of consolidation, indicating a potential bullish breakout on the horizon.
Van de Poppe emphasized the importance of monitoring key support levels, saying he would be interested in acquiring the token between $26 and $28 if markets experienced a "deeper correction."
Request 04 – $ SOL

Solid strength, solid uptrend.

I wouldn't be surprised if we hit $36-39 on this one.

If the markets correct further, I would like to get some $ SOL at $26-28. pic.twitter.com/RjhQAT8yx4

– Michaël van de Poppe (@CryptoMichNL) October 27, 2023
His positive outlook on Chainlink's future, with an expected rebound towards $12.50-13.00, reflects market participants' growing confidence regarding the cryptocurrency's long-term prospects.
Despite the volatility inherent in the crypto market, such endorsements from industry experts serve to bolster investor sentiment and spark a sense of optimism within the Chainlink community.
(The content of this site should not be construed as investment advice. Investing involves risk. When you invest, your capital is subject to risk).
Featured image from Shutterstock