Crypto
SOL Price Forecast Takes Bearish Turn, Prepare For Potential Plummet To $30 Or Lower
Solana (SOL) has become a leading player in the dynamic world of cryptocurrency, displaying a remarkable uptrend and offering substantial gains. Despite a modest 3.6% correction in the SOL price over the past 24 hours, the blockchain platform's native token has seen a significant increase of 43% over the past fourteen days.
However, the sustainability of these gains may be in dangeras SOL price appears poised for a significant decline and deep correction after an impressive 346% surge over the past year.
SOL price vulnerable to significant decline, $30 in sight
Crypto analyst Ali Martinez shed light on the potential challenges ahead for SOL. Martinez strong points the TD Sequential indicator, which is currently showing a sell signal on the SOL weekly chart.
The TD Sequential Indicator, developed by market technician Thomas DeMark, is a technical analysis tool for identifying possible trend reversals or exhaustion points in price movements.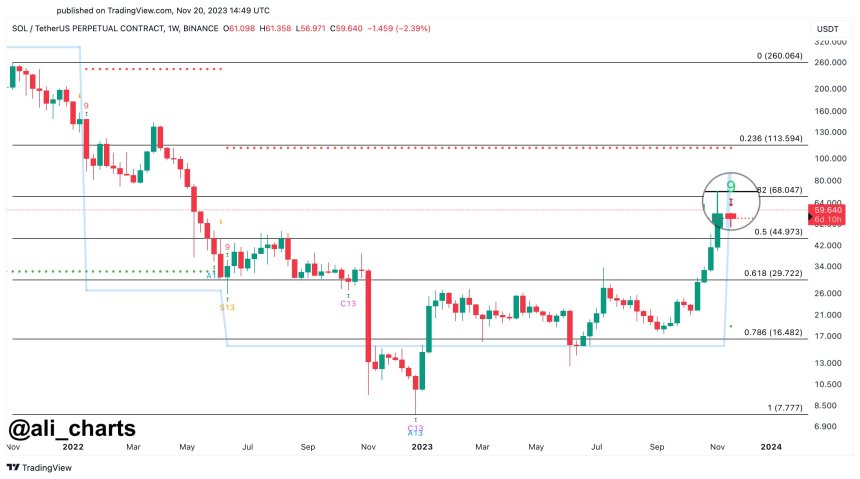 The indicator consists of consecutive candlesticks that meet specific criteria based on time and price movements. It searches for specific information patterns in price actionincluding the arrangement of consecutive highs and lows and the overall direction of the trend.
When the TD Sequential Indicator generates a sell signal, as seen in the SOL chart above, it indicates that the token is reaching an exhaustion point in its uptrend, perhaps indicating an imminent correction or reversal.
According to Martinez, if the bearish formation represented by the TD Sequential Indicator is confirmed, market participants could witness a decline in SOL price, potentially pushing it towards $45 or even falling as low as $30.
Solana defies correction concerns
Despite the potential for a price correction in the coming days or weeks, Solana has demonstrated impressive growth across various fundamental indicators, as revealed data provided by Token Terminal.
When looking at market capitalization, Circulating supply of SOL currently stands at $24.62 billion, representing a remarkable increase of 138.78%. Furthermore, the fully diluted market capitalization is estimated at $32.77 billion, reflecting a substantial growth rate of 134.29%.
SOL's revenue has also increased significantly, with a notable increase of 106.55% over the last 30 days, amounting to $1.26 million. Bringing these numbers to an annualized revenue of $15.28 million represents a healthy growth rate of 43.10%.
Transaction fees also played a key role in generating SOL's revenue. Over the past 30 days, transaction fees have increased by 106.55% to $2.51 million. This represents a growth rate of 43.10% when extrapolated to annualized revenues of $30.56 million.
by Solana growing ecosystem is also evidenced by an increase in the number of daily active users, which currently averages 128,180, reflecting a notable growth rate of 53.6% over the past 30 days.
Additionally, the platform saw an average of 82.83 core developers actively contributing to its development, indicating a growth rate of 13.1%.
Currently, SOL is trading at $58, with the next support level at $55 which will be key to the token's prospects.
Featured image from Shutterstock, chart from TradingView.com