Crypto
Ripple Transfers 800M XRP Back To Escrow: Catalyst For Rally?
Ripple Labs' recent financial maneuvers have once again attracted the attention of crypto detectives. Recent data from crypto data analytics platform Whale Alert showed a significant movement of 800 million XRP tokens into Ripple's established custodial system. This decision comes following Ripple's usual monthly. unlocking of one billion XRP, a practice that began in 2017 as part of the company's strategy to maintain XRP price stability.
Ripple returns 800 million XRP to escrow
The essence of Ripple's escrow mechanism is to facilitate consistent and predictable distribution of XRP in the market. This neutralizes any potential price volatility that could result from a sudden influx of tokens. In its commitment to this cause, Ripple has committed, starting in 2017, to gradually unlocking 55 billion XRP in 55 monthly installments of one billion XRP each.
After they are released each month, Ripple typically returns the majority of tokens, primarily 800 million XRP, to the repository, retaining a minor portion, around 200 million XRP, for market circulation. Recent data from Whale Alert confirms that Ripple was no exception this month and locked 800 million XRP tokens into the established escrow system.
In particular the return of 800 million XRP tokens occurred in two equal transactions, each involving 400 million XRP. Analysis of XRP Scan data reveals that the first set, amounting to 400 million XRP, was directed escrowd from an address known as "Ripple 10". Before that, "Ripple 10" had received said tokens from two different addresses: Ripple 22 and Ripple 23.
The next batch of 400 million XRP was transferred from "Ripple 23" to another. address dubbed "Ripple 11," before also being directed to the company's escrow account. The market value of the 800 million relocked XRP was approximately $480 million at the time of these transactions.
Of the initial 1 billion XRP made available, the remaining 200 million of Ripple. .
Ripple's blocked holdings now total approximately 40.9 billion XRP. As a reminder, their Q3 report revealed that they had approximately 41.3 billion XRP on deposit as of the end of September.
XRP price ready to rise further
After XRP crossed the 200-day exponential moving average (EMA) line (blue) on October 21, the price moved higher. In 11 days, the price of XRP increased by almost 20%. The fact that XRP price took a breather after yesterday's rally is likely not due to Ripple's monthly move from escrow, as Investors know how to assess the problem.
A better explanation is that XRP encountered strong resistance with the 0.386 Fibonacci retracement level at $0.625, where the price was initially rejected. Notably, the bulls could make another attempt if the price remains above the $0.60 level.
If the breakout is successful, the 0.5 Fibonacci retracement level at $0.683 could be the next near-term price objective. However, if XRP price is rejected again at $0.625, a retest of the Fibonacci retracement level from $0.236 to $0.553 could be the next logical step.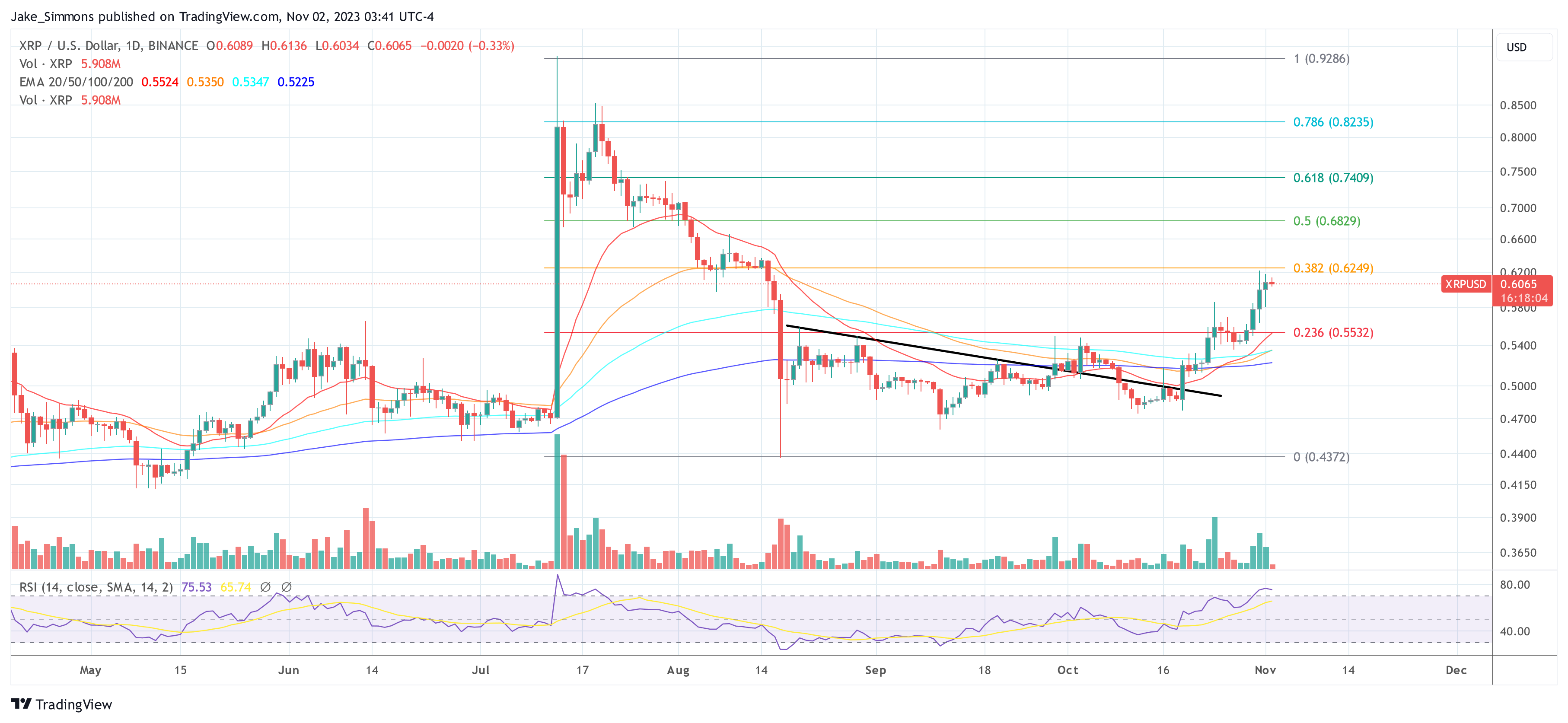 Featured image from Shutterstock, chart from TradingView.com