Crypto
Radiant Capital's Earnings Exploding, Time To Load The RDNT Bag?
Radiant Capital, a lending and borrowing protocol that allows users to borrow various assets across multiple chains, is rapidly closing in on Aave, looking at earnings data from the past six months.
Radiant rise in capital income: what is the trigger?
According to Token Terminal statistics from November 8 sharing by a user on X, @Flowslikeosmo, Radiant Capital generated $5.8 million in revenue despite having a relatively lower level of liquidity than Aave. @Flowslikeosmo, who claims to be a crypto researcher, said Radiant Capital's profits are likely to explode in the coming sessions, especially once the 2.8 million ARBs start rolling out.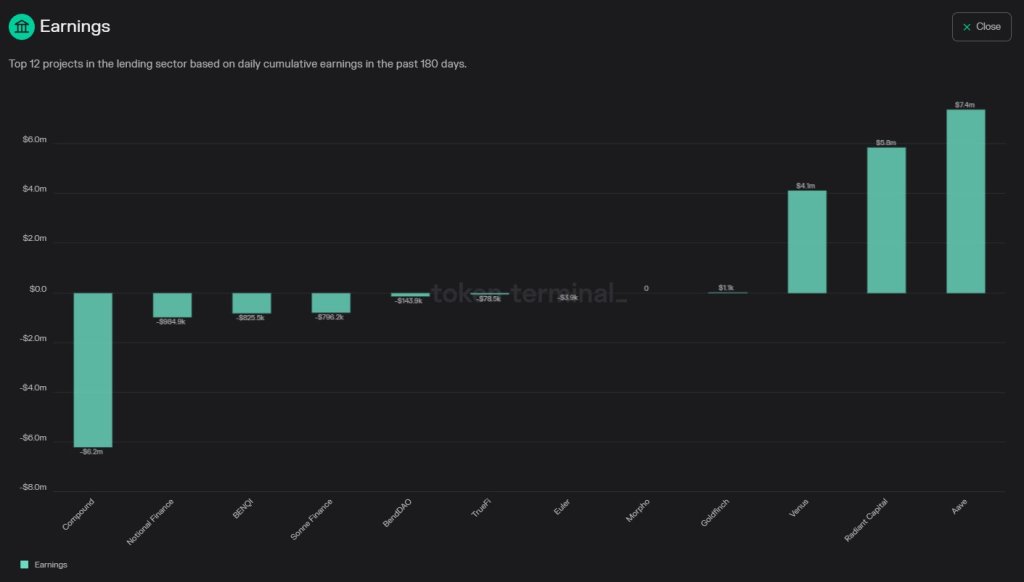 Radiant Capital is a popular cross-chain decentralized money market through which users, regardless of their blockchain of choice, can either lend their assets and earn passive income or borrow assets with confidence. In this way, the decentralized finance (DeFi) protocol has opened liquidity and improved access to multiple blockchains.
Related reading: Dogecoin in a tight zone: why a rally will happen if DOGE rises above $0.076
To function effectively, the protocol relies on LayerZero, which enables trustless and decentralized communication between blockchains using Oracle Relays, allowing platforms to be more interconnected and ledgers to be more interoperable. As Radiant Capital offers services, the DeFi protocol generates revenue or revenue primarily through fees.
The platform charges protocol fees on all transactions. The resulting earnings allow the team to be operational while allowing the protocol to generate revenue.
It should be noted, however, that only 15% of this fee is used to cover operating expenses, with the remainder redistributed to users in the form of yield. Additionally, fees are charged to users who take out flash loans. The protocol rewards providers with RDNT to incentivize the provision of liquidity, based on the amount provided and duration locked.
ARB Airdrop, will RNDT reach new highs in 2023?
The revenue generated depends on the level of activity, directly influencing the protocol fees accrued and the number of users taking out flash loans. Following the recent announcement by Radiant Capital of its intention to airdrop 2 million ARBs following the Arbitrum DAOthe approval of a proposal first introduced in late September, activity could soar in the coming months, boosting profits.
Additionally, the liquidity of the protocol is expected to increase with this approval. The ARB airdrop will be used to encourage liquidity provision. Additionally, Radiant Capital will form more partnerships, allowing it to expand to other chains, including Ethereum and Arbitrum.
According to Dune Analytics data, the number of RDNT holders continues to increase, reflecting the general price movement. So far, RDNT is up 40% from October lows. The immediate resistance level at $0.33 must be breached for the coin to recover, even registering new highs in 2023.
Featured image from Canva, chart from TradingView