Crypto
Overtakes Ethereum In 24H NFT Sales Volume For The First Time
In a turn of events in the non-fungible token (NFT) market, Bitcoin (BTC) achieved a major milestone by overtaking Ethereum (ETH) in 24 hours. NFT sales volume. This is the first time that Bitcoin has surpassed Ethereum in this aspect.
BTC's NFT breakthrough
Bitcoin's recent overshoot Ethereum A 24-hour NFT sales volume signals a changing trend and growing interest in the NFT market.
While Ethereum has long been recognized as the dominant blockchain for NFTs, Bitcoin's entry into the space demonstrates its growing relevance and appeal to NFT enthusiasts and collectors.
THE data points out that Bitcoin accounted for $17,291,694 in NFT sales, with 575 buyers participating. On the other hand, Ethereum recorded a total turnover of $26,689,252, with 11,225 buyers.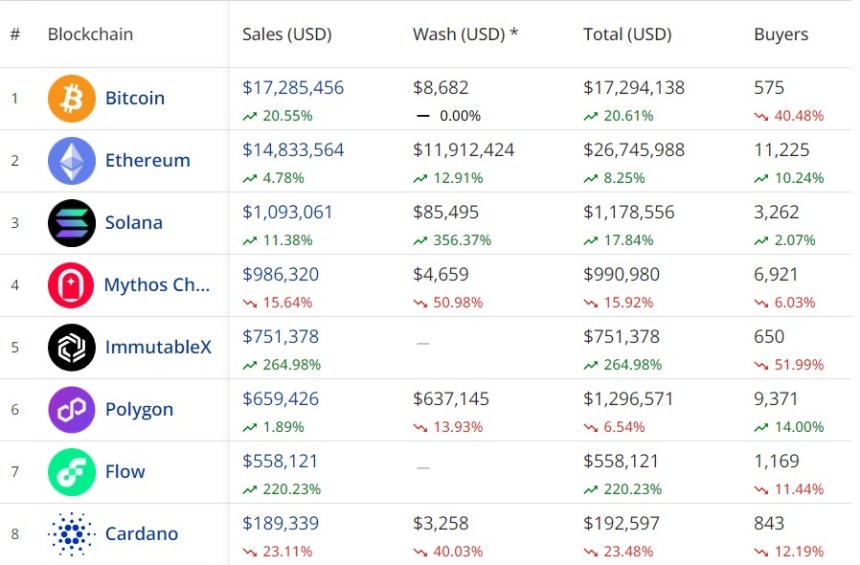 Although Ethereum maintains a higher total sales figure, Bitcoin's relatively low wash percentage suggests potentially healthier and more organic market activity.
However, when it comes to volatility, data from Deribit, the leader crypto derivatives exchangeshows that the gap between ETH and BTC volatility, commonly referred to as the ETH DVOL vs BTC DVOL gap, has narrowed significantly since October 23, from -11.6 to just -0.6. This change indicates a shift in investor sentiment and increased attention towards Ethereum and altcoins.
In light of this development, Ethereum has outperformed Bitcoin over the past fourteen days. ETH has seen significant price action, gaining over 2% in the last 24 hours, 6% in the last seven days, and 4% in the last fourteen days, bringing its current price to $1,899.
Meanwhile, Bitcoin has shown a slowdown in its upward momentum and is currently consolidating above $35,400. It has seen an increase of 2% in the last 24 hours, 3% in the last seven days and 1% in the last fourteen days.
However, it is important to note that BTC has gained over 82% year to date, while ETH is only up 30% over the same period, according to CoinGecko. data.
Correlation between Nasdaq 100 and Bitcoin collapses
According to the recent Kaiko data, BTC saw a significant decline in its correlation with traditional assets throughout the year. A notable development is the decreasing correlation between Bitcoin and the Nasdaq 100 index.
Over the past year, Bitcoin's 60-day correlation with the Nasdaq 100 has declined significantly, from over 70% in September 2022 to around 19% as of last week.
Bitcoin negative correlation with the US dollar, which varied between 40 and 50%, also weakened. Currently, the correlation is around 11%, signifying a reduced tendency for Bitcoin's value to move in the opposite direction to the US dollar.
Although Bitcoin's correlation with gold has seen some upward momentum since August, the average correlation throughout the year has remained relatively low at 12%.
This suggests that the relationship between Bitcoin and gold has been modest with respect to price movements and indicates a potential divergence in investment characteristics between the two assets.
Featured image from Shutterstock, chart from TradingView.com