Crypto
Near-Term XRP Price Rally Of 270% Is Imminent: Crypto Analyst
The price of XRP has seen a strong upward trend in recent days, demanding attention from investors and analysts. According to crypto analyst Dark Defender, XRP has surpassed the short-term price target of $0.66, a bullish signal for the digital asset's trajectory.
"We set $0.66 as a very short-term target, and now it's exceeded within the 4-hour time frame. Congratulations, who believed it. tweeted Dark defender.
The Next Short-Term XRP Price Target
The analyst highlights the need for XRP to maintain its position above this level to confirm its uptrend. "We also need to stay above that level today. The daily time frame indicates that we are oversold, so there could be back-tests at $0.66 per day," Dark Defender added, hinting that a corrective action could be imminent.
Remarkably, Dark Defender isn't just limited to everyday movement; the analyst provided a comprehensive bullish outlook over different time frames. "Daily time frame, bullish; Weekly calendar, bullish; Bullish monthly timeframe," Dark Defender said, reaffirming a strong sense of bullishness after several months of anticipation.
In terms of future price predictions, the crypto specialist sees a 270% rise to $1.88 as the next short-term target, but not before a crucial condition is met: "We must first observe XRP closing above $0.6649, a prerequisite for a crucial Fibonacci. $1.88 level.
Fibonacci levels are often used in trading to identify potential support and resistance levels, and the $1.88 mark is highlighted as a significant Fibonacci level, equivalent in strength to the $0.66 threshold . On the upside, Dark Defender sets additional targets of $1.05 and $1.33, although these are considered less challenging than the $0.66 level.
Long-term price targets
The realignment of priorities will shift towards $5.8563 once the $1.8815 level is breached. "Whenever I see a breakout of $1.8815, then we can set $5.8563" as the next target, the analyst explains, setting an ambitious but calculated path for XRP's potential growth.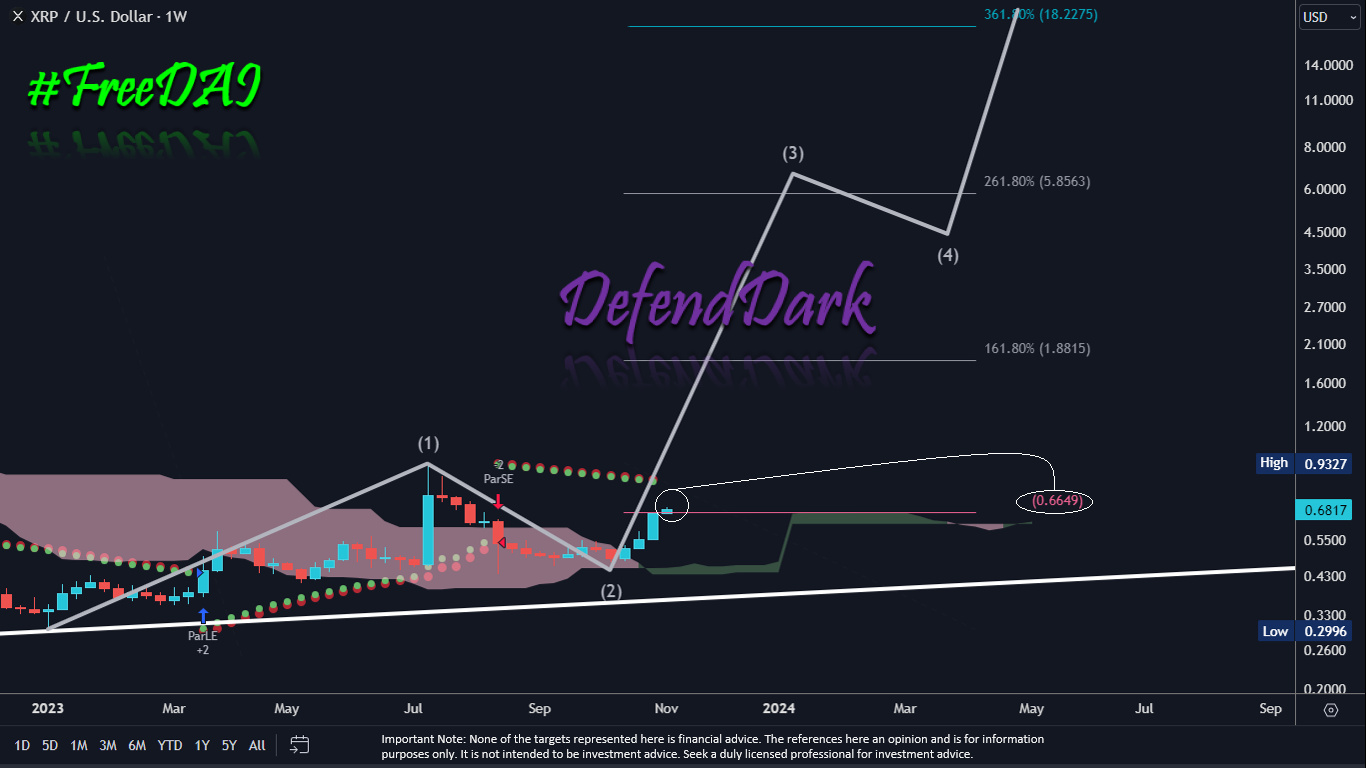 The chart shared by Dark Defender features XRP price targets, illustrating a well-defined Elliott Wave pattern, a technical analysis tool that predicts future price movements by identifying crowd psychology that manifests in waves. This method relies on the idea that market prices unfold in specific patterns, which Dark Defender applied to the XRP price chart.
The chart indicates that XRP is currently in an Elliott wave pattern, a structure composed of impulse and correction waves. Impulse waves, labeled 1, 3, and 5, move in the direction of the trend, while corrective waves, labeled 2 and 4, move against it. Dark Defender's analysis suggests that XRP has completed its wave 1 and wave 2, with wave 1 being characterized by a sharp price increase and wave 2 marking a retracement.
Wave 3, which is often the longest and most dynamic, has targets set by the analyst using Fibonacci extension levels. This is where we see the recent break above $0.66, marking the potential start of wave 3. The 1.618 Fibonacci extension level provides the next target for this wave at $1.88. However, Dark Defender's ultimate target for Wave 3 is above the 2.618 Fibonacci extension level at $5.88.
As for wave 4, Dark Defender expects a slight corrective wave, which will likely see the price retrace wave 3 highs, but not below $3.5. Finally, wave 5 is expected to push the price up again, completing the Elliott Wave cycle. If the analyst's prediction holds true, XRP price sets an aggressive long-term target of $18.22 for the completion of wave 5, which would represent a substantial increase of over 2,500% from previous current levels.
At press time, XRP was trading at $0.6933.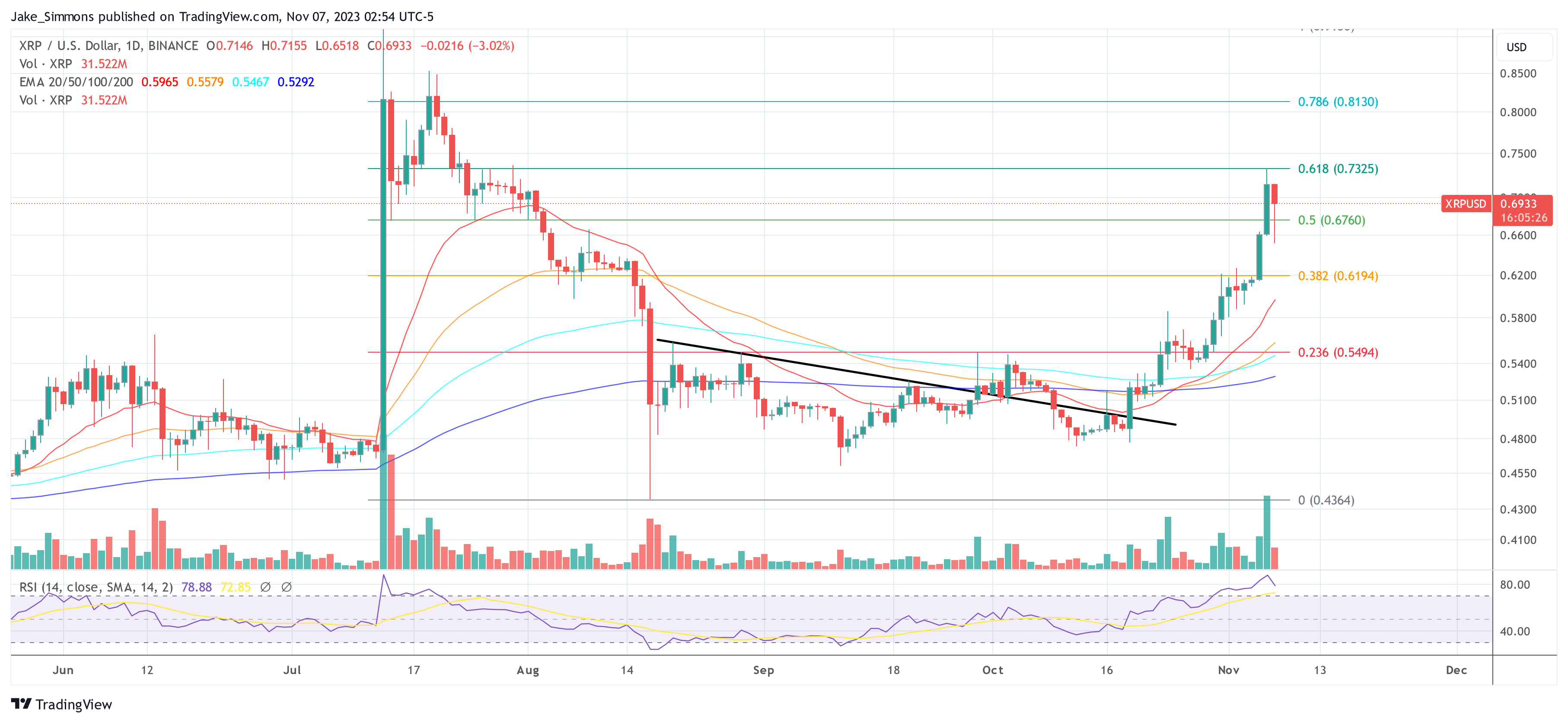 Featured image from Shutterstock, chart from TradingView.com