Cybersecurity
Join this webinar to understand and strengthen the identity attack surface
September 5, 2023Hacker newsAttack surface/identity threats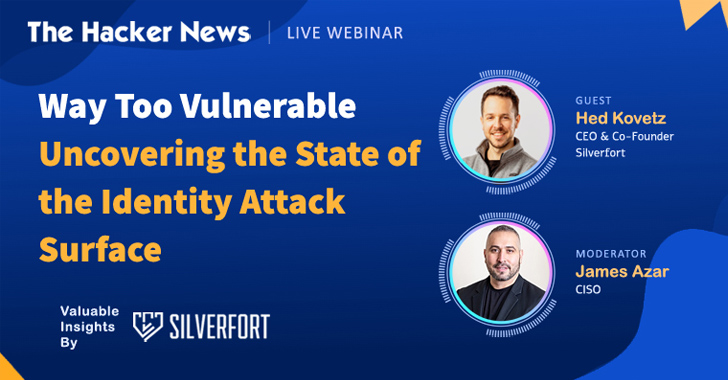 In today's digital age, it's not just about being online, but also about keeping your organization secure online. Regardless of size or industry, every organization relies heavily on digital assets. The digital domain is where activities take place, from financial transactions to the storage of confidential data.
While organizations have rapidly adopted tools such as multi-factor authentication (MFA), privileged access management (PAM), and service account protection, a pressing question remains: are these measures really enough?
With the rise of identity threats, the real battlefield has changed. It's no longer just about firewalls or encryption, but the very identities that access these digital assets.
Every day, attackers come up with new strategies to compromise user identities to find that weak link and gain malicious access. The tools we rely on may not be as foolproof as we once thought. Many organizations are unaware of large security vulnerabilities, leaving them open to potentially devastating attacks.
Silverfort, in its unwavering commitment to cybersecurity, commissioned an in-depth study from Osterman Research, a leading cybersecurity consultancy. The results? Surprising insights into the state of the identity attack surface and the significant vulnerabilities that persist.
Why participate in this webinar?
Our exclusive webinar, "Way Too Vulnerable: Uncovering the State of the Identity Attack Surface", is more than a simple presentation. It is a revelation.
We are honored to have Hed Kovetz, CEO and co-founder of Silverfort, leading this session. With his extensive experience and in-depth knowledge of the world of cybersecurity, Hed promises a session that is both enlightening and actionable.
Here's what you'll discover:
Understanding the identity attack surface: Dive into the heart of its nature and the crucial importance of its preservation.
Measure your security: Evaluate how effectively your organization has implemented MFA, PAM, and service account protection.
The ultimate solutions: Learn about comprehensive strategies that can strengthen your identity attack surface against imminent threats.
Expert Views: Benefit from the extensive knowledge of cybersecurity experts and get answers to your pressing questions.
Secure your place today!
The digital landscape is evolving, and so are its threats. Arm yourself with the knowledge you need to stay ahead of the curve. Join us for an informative session that promises to transform the way you think about your organization's cybersecurity.
Don't leave your organization's security to chance. Discover, learn and strengthen yourself. Register now for the webinar.