Crypto
Is An Ethereum Mega Rally Incoming?
Ethereum prices are firm at spot rates, still trading above the $2,000 level, and several other factors point to a possible continuation of the trend.
According to Kaiko data on November 12, not only is the ETH-BTC ratio changing and reversing after extended periods of lower lows, but there is also a notable increase in trading volume with crypto derivatives platform funding rates going from negative to positive, suggesting growing demand.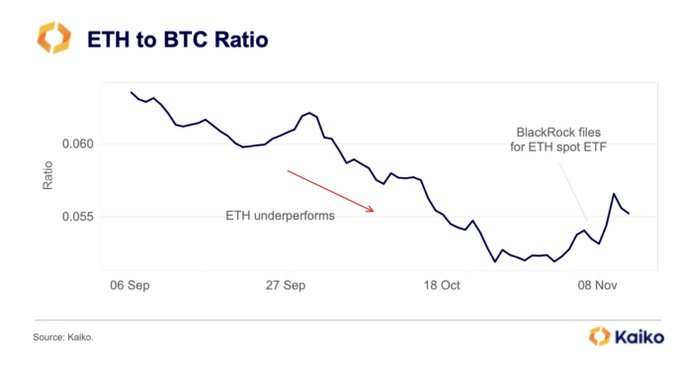 Ethereum exceeds $2,000
As of this writing on November 13, Ethereum is relatively firm and changing hands around the $2,090 level. Despite the expected contraction in trading volume over the past two days following the November 9 rally, the uptrend remains in place.
So far, the immediate support level that technical analysts are watching remains at $2,000, marking the July 2023 high. Conversely, the $2,100 area, marking the April high, is a critical liquidation level that optimistic bulls must cross to continue the buying trend.
As things stand, traders are optimistic. However, the continuation of the uptrend depends mainly on trader sentiment and the possibility that existing fundamental factors will spark increased demand, taking ETH to new highs in 2023. So far, even if the support base While ETH's general outlook remains bullish, the coin, unlike Bitcoin (BTC), is struggling to break key resistance levels recorded in the first half of 2023, which is a cause for concern.
ETHBTC turns bullish as funding rate turns positive
On the positive side, looking at the layout of the ETHBTC candlesticks in the daily chart, ETH's sudden reversal of fortune on November 9 could anchor the next bullish leg, signaling a new trend change that favors Ethereum buyers. Looking at the ETHBTC formation, Bitcoin bulls have had the upper hand in 2023.
Related reading: XRP Price Path to $1: Exploring Two Potential Outcomes From the $0.66 Resistance Level
To quantify, BTC is up 33% against ETH, with the peak sale on October 23 pushing BTC all the way up to the second most valuable coin in 2023. However, the strong rally on November 9 and the subsequent failure of BTC bulls to reverse losses, this suggests that ETH has the upper hand.
So far, ETHBTC prices are moving inside the November 9 bullish engulfing bar on light trading volumes, a net positive for bullish ETH holders.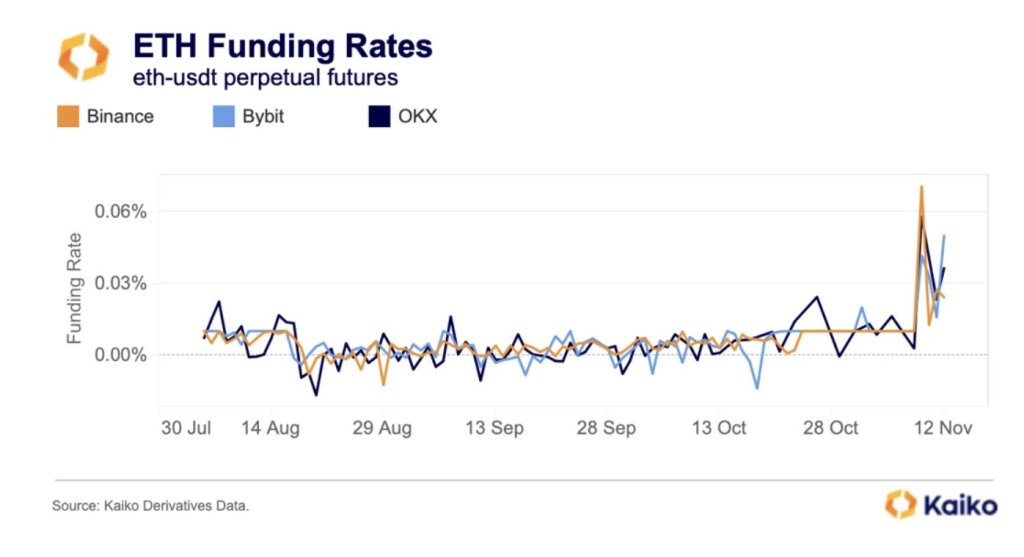 Following this push, Kaiko Remarks that the funding rate for the ETHUSDT pair is positive, signaling growing demand in the crypto derivatives scene. When funding rates move from positive to negative, it means that long traders are paying short traders to keep their positions open. This development indicates that more traders are long ETH, expecting prices to rise in the coming sessions.
Featured image from Canva, chart from TradingView