Crypto
Howling At The Moon: 23,000% Dogecoin Signal Reawakens
Dogecoin Holders are screaming for the popular meme cryptocurrency to reach "the moon" and they just might get it. Indeed, a parabolic technical signal is back, having last appeared before a stunning 23,000% rally.
Keep reading to learn more about the signal and what it could mean for DOGE.
Dogecoin Tags Parabolic SAR: Another 23,000% Surge Coming?
During the last crypto bull market, Dogecoin was among the standout stars, outperforming Bitcoin, Ethereum, and most other altcoins. Driven by meme mania, stimulus checks and Elon Musk tweetsDOGE has made a lot of people a lot of money.
Before the 2020 bull run, the Doge-inspired meme coin spent over three years in a downtrend. Just before the breakout that sent Dogecoin soaring, DOGEUSD price action had exploited the 1M Parabolic SAR.
Not even a year after the monthly Parabolic SAR was marked on the USD trading pair, Dogecoin saw a rally of over 23,000% before hitting a 2021 high.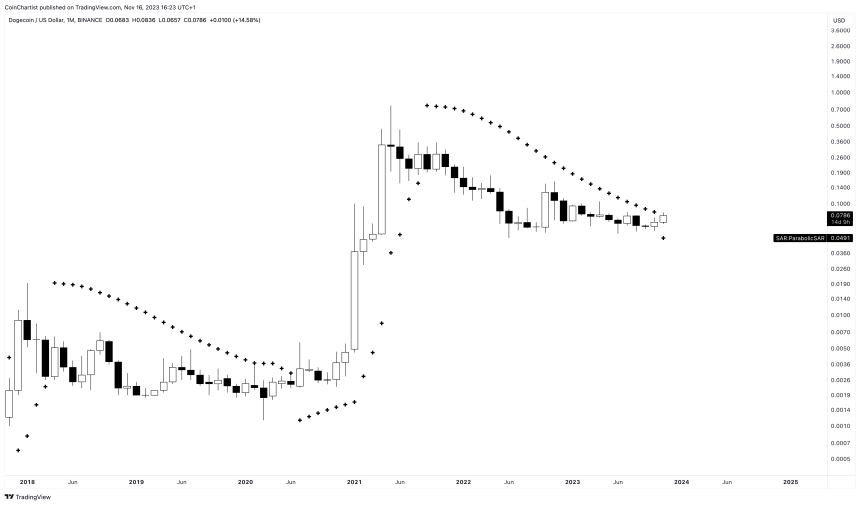 The Parabolic SAR has been triggered | DOGEUSD on TradingView.com
Can the Parabolic SAR revive the Meme Coin season?
THE Parabolic SAR is a technical indicator designed by J. Welles Wilder, Jr. responsible for creating other popular tools like the Relative Strength Index, Average Directional Indexand the average true range.
The acronym SAR stands for Stop and Reverse, and the intent of the tool is to indicate to an analyst when a trend has potentially stopped and reversed.
In 2020, Dogecoin's signal was indeed the last point before the downtrend stopped and reversed to new highs. Now that the signal has been triggered again, what kind of movement can we expect from the meme coin?
As noted, the last time it was tagged, DOGEUSD was up over 23,000%. The Parabolic SAR was also hit on the 1M time frame in April 2017, just before another 6,200% rally. An average of the two main rallies suggests a possible 14,600% upside.
However, the Elliott Wave Principle indicates that the first wave of any cycle is of a similar magnitude to that of the final wave, suggesting an additional 6,200% return on investment if an uptrend materializes at from there.