Cybersecurity
Google Chrome rolls out Privacy Sandbox support to say goodbye to tracking cookies
September 11, 2023THNPrivacy / Online Security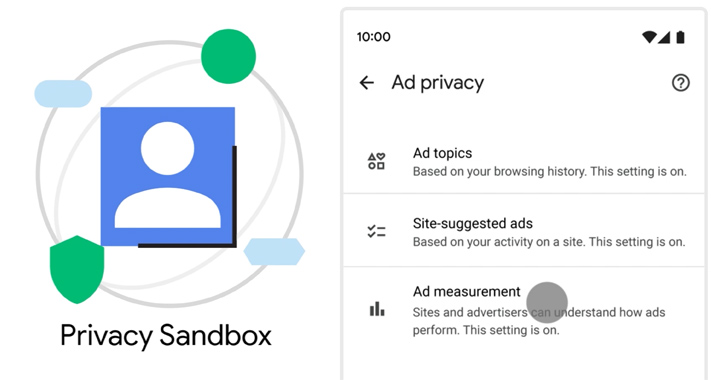 Google has officially started rolling out Privacy Sandbox in the Chrome web browser to the majority of its users, almost four months after announcing its plans.
"We believe it is vital to both improve privacy and preserve access to information, whether it is news, a how-to guide, or a fun video," Anthony Chavez , vice president of Privacy Sandbox initiatives at Google, said.
"Without viable privacy-preserving alternatives to third-party cookies, such as Privacy Sandbox, we risk reducing access to information for all users and encouraging invasive tactics such as fingerprinting."
To this end, the search giant initially leaves almost three percent of users unaffected by the change in order to carry out sufficient testing. General availability is expected to include all users in the coming months.
Privacy Sandbox is Google's generic term for a set of technologies aimed at eliminating third-party tracking cookies across the web and replacing them with privacy-preserving alternatives, while still serving personalized content and ads.
The company is also simultaneously testing Privacy Sandbox on Android in beta on eligible mobile devices running Android 13.
At the heart of the project is a Topics API, which sorts users into different topics (which may change over time) based on which sites are visited and how often those sites are visited, which websites can query to infer which topics a specific user is interested in. and serve personalized ads without knowing who they are.
In other words, the web browser acts as an intermediary between the user and the website. Users can additionally control their experience by customizing the advertising topics they are interested in, the relevance and measurement APIs they want to enable, or by turning these features off completely.
However, Privacy Sandbox is not without its share of criticism, with Movement For An Open Web noting last week, "Google collects quantities of personal data about each of its users, obtained through an opt-in process that is difficult for most Internet users to avoid."
This development comes as Google enables real-time protections against phishing attacks with improvements to Safe browsingwithout any prior knowledge of users' browsing history.
Google has not disclosed the exact technical aspects involved, but it has leveraged Oblivious HTTP Relays (OHTTP relay) as part of Privacy Sandbox to integrate anonymity protections and hide IP address information.
"Previously, it worked by checking each site visit against a locally stored list of known malicious sites, which is updated every 30 to 60 minutes," says Parisa Tabriz, vice president of Chrome. said.
"But phishing domains have become more sophisticated and today, 60% of them have been around for less than 10 minutes, making them difficult to block. By shortening the time between identifying and preventing threats, We hope to see 25% improved protection against malware and phishing threats.