Here's my review of DevonThink, a Mac app that collects, organizes and polishes your files, storing them in easily backed-up databases for convenient access.
---
DevonThink: In a nutshell…
Master in Document Management:DevonThink is a game changer, easily managing all types of documents and storing them in organized databases.
Integrated web editor and capture: Directly edit text files and save data from web browsers or any Mac application, all in one place.
Advanced organization: From tagging to sorting groups, DevonThink's organizational capabilities simplify your workflow.
OCR and annotations: Make scans searchable and annotate PDFs effectively with DevonThink.
Data synchronization and security: Robust encryption and flexible sync options keep your data secure and accessible across devices.
Automation and AI: Automate repetitive tasks and leverage DevonThink's AI engine that understands your ranking habits for smarter suggestions.
Increase productivity: Searching for specific files becomes faster and easier, and offline access to websites is just the icing on the cake.
Your digital Marie Kondo: Tidy up the clutter on your Mac and streamline your digital life with DevonThink.
➡️ BUY THIS APP
Whether storing searchable scanned documents or downloading entire websites for offline access, DevonThink handles it all like a pro. If you like to multitask or juggle different roles, DevonThink might just be the tool you've been looking for, thanks to its powerful features, user-friendly design, and FREE price.
What is DevonThink?
Digital binder: DevonThink for Mac meticulously organizes all your documents, notes, images and more into structured databases.
Built-in editor: Edit text, Markdown files, and rich text documents directly in the app, or easily open them in other apps for later editing.
Web capture and integration: Extract data from the web and save it directly to DevonThink's database, which integrates seamlessly with Finder.
Advanced organization: Sort, label, mark and rate your documents for easy retrieval. Enjoy predefined smart groups and fast full-text search.
OCR and annotations: DevonThink leverages OCR to make your scans searchable and enable detailed annotations on PDFs.
Data synchronization and security: Securely sync your data across devices and keep control over what, when and where to sync. Strong encryption ensures data confidentiality.
Automating: Automate repetitive tasks by integrating DevonThink with shortcuts and other apps for efficient workflows.
Consider DevonThink the secret weapon in your Mac's arsenal, a revolutionary tool that takes your document management to a new level. No matter the type (PDFs, notes, images, bookmarks), DevonThink handles it all effortlessly, organizing these disparate items into well-structured databases and groups. It allows you to directly view and interact with a myriad of file types, eliminating the need for additional applications. It's like a digital filing cabinet, impeccably cataloging every piece of your data.
When it comes to the best macOS productivity apps, I think DevonThink is definitely among the best of them. There's a bit of a learning curve, but that's always the case with apps that are packed with a myriad of features. It's not a steep curve though, and you'll quickly find your feet and begin to unlock the true latent potential of DevonThink.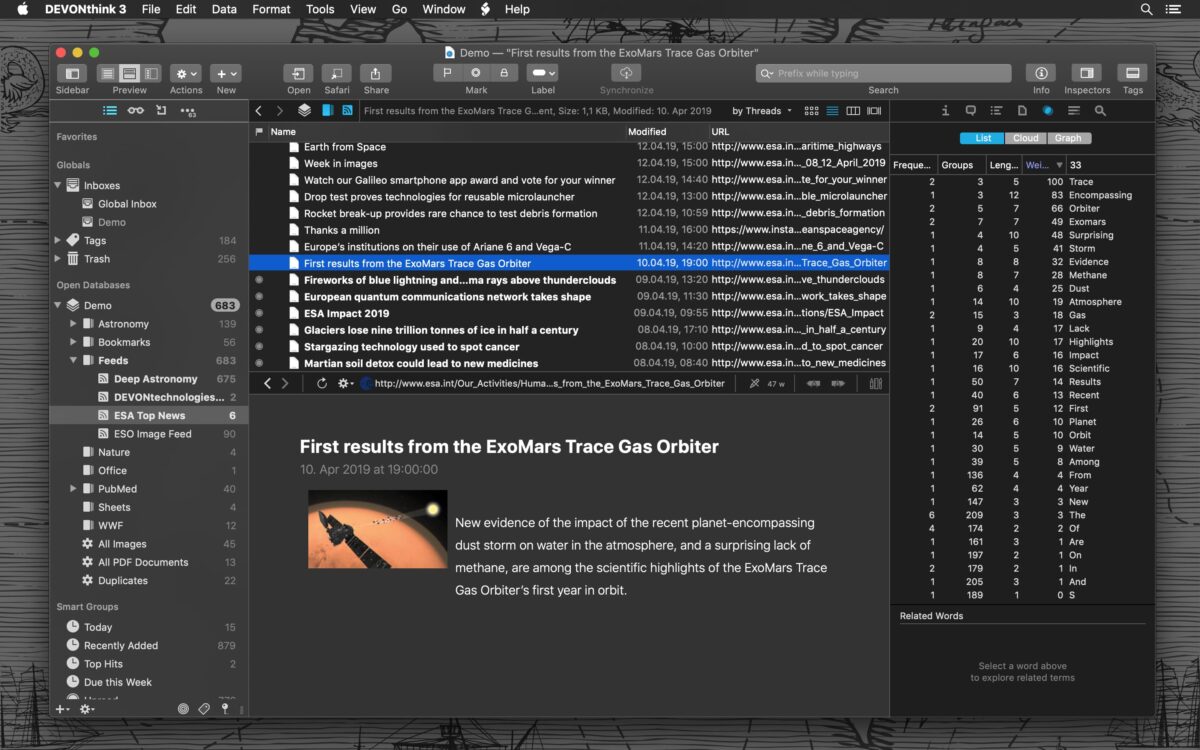 DevonThink really shines when it comes to editing. You can edit texts, Markdown files, and rich text documents directly in the app. And if its built-in editing capabilities don't quite meet your needs, you have the freedom to open your files in other applications. Not only that, but web pages can be read as if they were local documents — a real boon for offline research and reading.
Capturing data from your web browser and virtually any other Mac application is child's play. DevonThink's deep integration with Finder makes your databases appear like a local file system, so you can effortlessly save files directly to DevonThink. Plus, enjoy the simplicity of drag-and-drop functionality, both within the app and with other apps.
Borrowing from its To Go counterpart, DevonThink for Mac offers a multitude of ways to organize your document library. You can sort documents into groups, apply tags, or even include them in multiple groups without duplicating them.
Reporting items, marking them as unread, or applying star ratings is all in just a few clicks. Predefined smart groups, such as those containing flagged or unread documents, further simplify your work. And with fast full-text searching, you'll always find what you're looking for.
DevonThink for Mac doesn't stop there. It leverages OCR to make your scans searchable and lets you annotate PDFs with all the standard tools and types. Pages can be rearranged, rotated or deleted as needed. Including links in your documents is a seamless process, and exporting them in their original formats to Finder and other supporting applications is a no-brainer.
When it comes to syncing your data across all your devices, DevonThink has your back. With robust encryption standards, it ensures that your data remains exactly that: yours.
You have the power to choose what, when and where to sync, whether over a local network or through your favorite cloud service.
Automating repetitive tasks is a key feature of DevonThink for Mac. By combining it with Shortcuts and your other applications, you can create efficient workflows, from creating documents to reorganizing databases based on your predefined rules.
How DevonThink works – Spoiler: it's AI and algorithms…
You might be wondering, "Okay, but how does he do all this?" » Although the technical details may seem like magic, it's quite simple once you break it down. At its core, DevonThink uses advanced algorithms to sort and classify your data. Think of it as your own personal digital librarian.
Featuring a highly adaptive AI engine, it tracks your deposit history and the more you use it, the more it understands your preferences. This allows it to predict what information you might need next and deliver it via a web feed. And unlike many AI applications that promise Earth but rarely deliver, DevonThink is actually very good at it.
Increase your productivity
Even with plenty of ways to search for things in macOS, finding specific files and/or data can still be a bit of a pain. With DevonThink, it becomes much easier and much faster to find what you are looking for. Every document or file you put in is text searchable, even scanned ones (like bank statements, invoices and receipts). It's like having Google specifically for your digital files.
And as an added bonus? You can download ENTIRE websites for offline access, which for some users will be a godsend. It's one of those features that you really don't appreciate until you use it and then try to continue your daily life without it. It's extremely useful and one of my favorite parts of this already very impressive macOS app.
Basically, if your Mac is a mess despite your best efforts to keep it clean and organized, DevonThink is like your own personal digital Marie Kondo. Associate it with 1.1.1.1 Warp app for Mac and you will move forward through tasks and projects.
And that, ladies and gentlemen, is why DevonThink should be the star player in your tech stack. Trust me, once you get a taste of what it can do, you'll wonder how you ever lived without it…
➡️ BUY THIS APP
Richard Goodwin
Richard Goodwin has worked as a technology journalist for over 10 years. He is the publisher and owner of KnowYourMobile.