Crypto
Cardano: Midnight Devnet Goes Live
The Midnight team, a subsidiary of Input Output Global (IOG) – the brains behind the Cardano blockchain, made a major announcement yesterday on X (formerly known as Twitter. The statement read: "Here's the news you've all been waiting for – the Midnight Network devnet is now LIVE. We can't wait to hear your feedback and see what the community builds on. Let's go!"
This announcement heralds the start of a new era for the Cardano ecosystem, introducing Midnight Network, a privacy-centric blockchain designed to address growing concerns around digital privacy. The launch of Devnet is a strategic move, highlighting IOG's commitment to improving data protection in blockchain technology.
One of the highlights of this initiative is the selection of 100 "Midnight Pioneers", chosen to access the first alpha version of the blockchain. These pioneers are responsible for developing data protection applications on a private network, playing a central role in perfecting Midnight's capabilities.
In its announcement, the Midnight team also emphasized community engagement, promising future events such as live webinars, Q&A sessions, and additional opportunities for developers. access the devnet. They also highlighted future opportunities for a wider range of developers to access the devnet, hinting at an expansion of the devnet once initial progress is made.
Alongside the Midnight blockchain, a new token named DUST will be introduced. DUST is an integral part of how the Midnight Network operates, and its role and utility are becoming key topics of discussion in the cryptocurrency community. Several high-ranking members of the Cardano community have recently teased the possibility of a DUST airdrop to ADA holders.
Impact on the price of Cardano (ADA)
The crypto market often witnesses large price movements in response to major developments such as new project launches or airdrops. For Cardano, the launch of the Midnight Network and the introduction of the DUST token could have a potential impact on the price of ADA.
Historically, the announcement of airdrops has led to a substantial increase in demand for the original cryptocurrency. This is mainly because token holders receive new tokens for free, incentivizing investors to buy, for example, ADA, in the hope of qualifying for the airdrop. Additionally, such announcements generate significant media buzz and attract new investors, temporarily increasing the price of cryptocurrencies.
This phenomenon has been observed several times, for example with the Flare Network program. airdrop to XRP holders, causing the price of XRP to rise as investors bought to qualify for the free Spark tokens. Similarly, Uniswap's UNI airdrop in September 2020 led to a significant increase in UNI trading volume and price as it garnered considerable attention and value in the market.
In light of these precedents, the launch of the Midnight Network and the introduction of DUST could potentially trigger a similar effect on Cardano's price. Although an official announcement on the airdrop and an instant date are still open, this could catalyze a further rise in Cardano's price.
At press time, ADA was trading at $0.3665.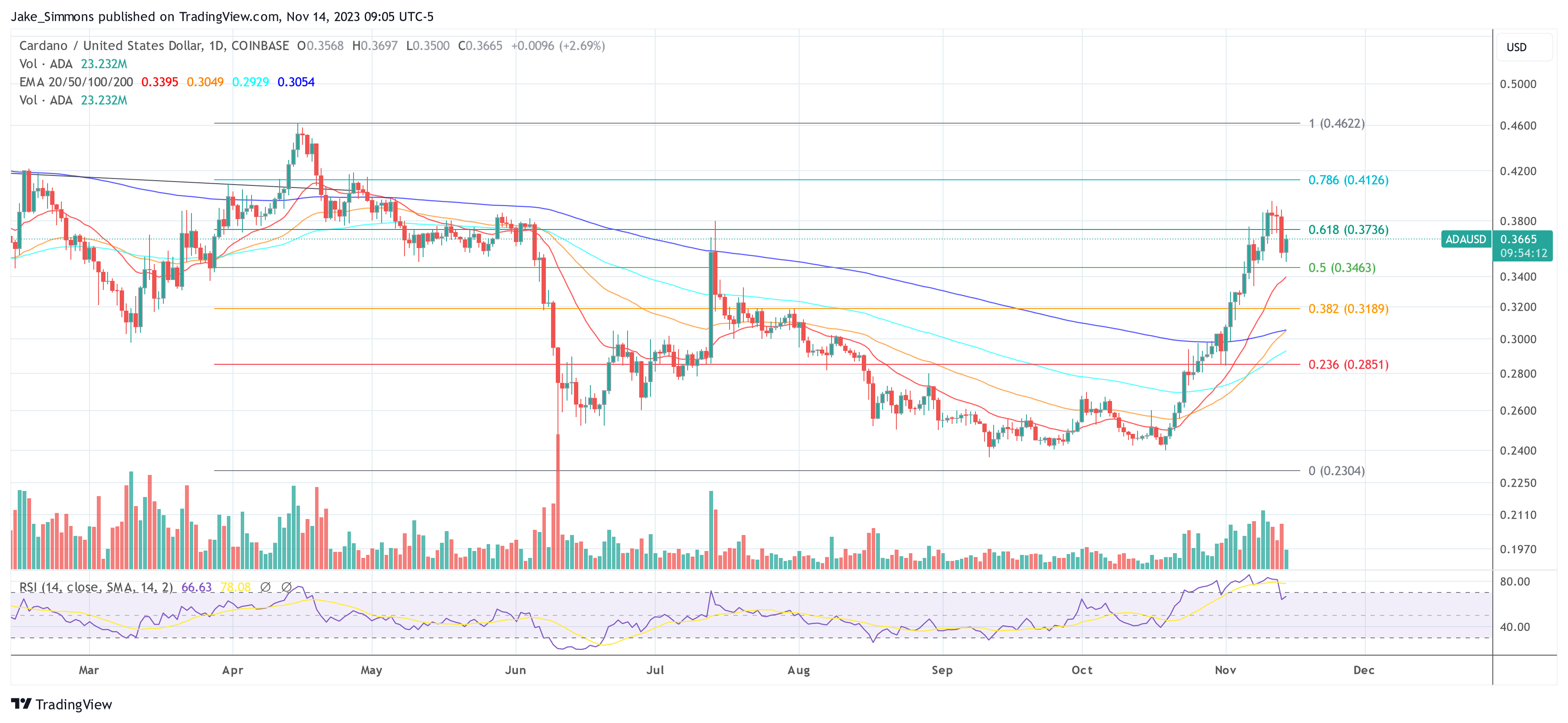 Featured image from Shutterstock, chart from TradingView.com