Crypto
Can Dogecoin Rally 135%? Here's What Needs To Happen
In a recent analysis, crypto analyst Rekt Capital identified signs of a potential Dogecoin (DOGE) price breakout, which could pave the way for a significant price rise. However, several factors must come together for this scenario to come true.
Dogecoin price ready for a breakout?
Rekt Capital shared the following DOGE/USD 1-week chart. According to his analysis, Dogecoin's price movement has been limited to a descending channel pattern since its peak late last year. This pattern is characterized by two parallel trendlines, representing potential support and resistance levels, with the Dogecoin price oscillating between them.
Last Wednesday, DOGE price was once again rejected at the upper trendline, making it the fifth rejection over the past year. However, a key observation made by Rekt Capital is the "buy the dip" behavior displayed by traders, which has so far prevented a strong continuation of the decline. He underlines :
The bearish buying behavior we saw yesterday looks like relief in the face of key resistance. However, there was no strong rejection from DOGE or further decline. The most important signal is a weekly close above the top of the channel to confirm a breakout.
As Rekt Capital points out, the most crucial signal for a potential breakout is if Dogecoin can achieve a weekly close above the channel top. Therefore, DOGE bulls must display strong "buying the dip" behavior. If the price manages to close above the top of the channel, it could signify a strong uptrend ahead.
Potential Price Targets
When it comes to the DOGE/USD daily chart, several key price objectives can be inferred based on Fibonacci retracement levels and exponential moving averages (EMA). EMAs, which are used to identify potential support and resistance levels based on past price data, display a cluster around the $0.0660 to $0.0684 range. Currently, DOGE has fallen below the crucial 200-day EMA (blue line) at $0.0684, but found support at the 20-day EMA (red line) at $0.0660.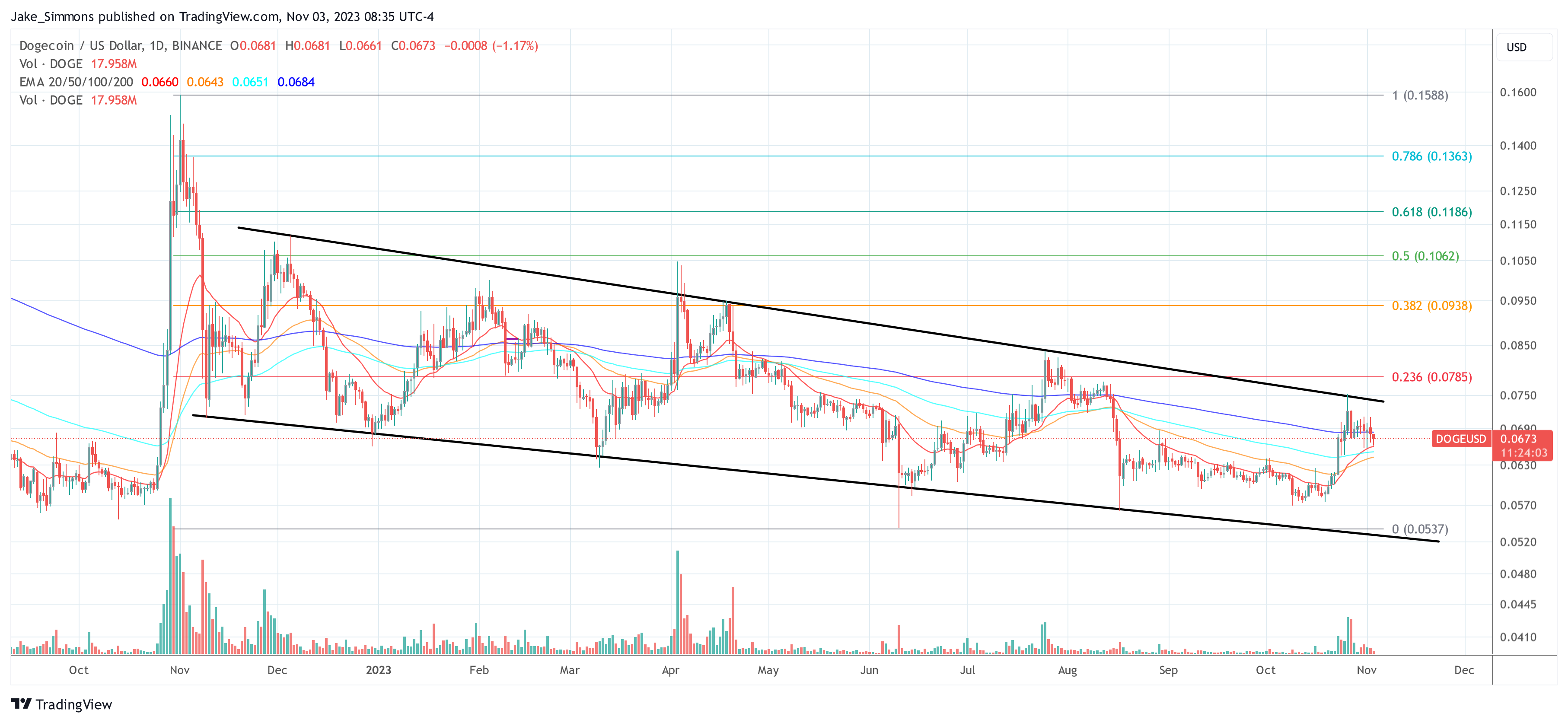 If a breakout of the downtrend channel is successful, the 0.236 Fibonacci level at $0.0785 will likely be the first major price objective. If DOGE rebounds from this level, a retest of the breakout is very likely – this would be a watershed moment for Dogecoin. However, a successful retest could pave the way for DOGE to surpass the $0.0785 price level and set the stage for subsequent price targets.
On the higher side, the Fibonacci retracement levels to watch are 0.382 ($0.0938), 0.5 ($0.1062), 0.618 ($0.1186), and 0.786 ($0.1363), which act often as critical areas of resistance and support. The ultimate target for a potential 135% rebound would be the November 1 high at $0.1588.
In conclusion, even though current market sentiments and trends suggest a potential breakout, it remains imperative for DOGE to secure a weekly close above the channel top. If this happens, and coupled with favorable market dynamics, Dogecoin could once again witness a breathtaking rally.
Featured image from Kanchanara/Unsplash, chart from TradingView.com